La Dépêche française, Shang-Chi, Le chevalier vert.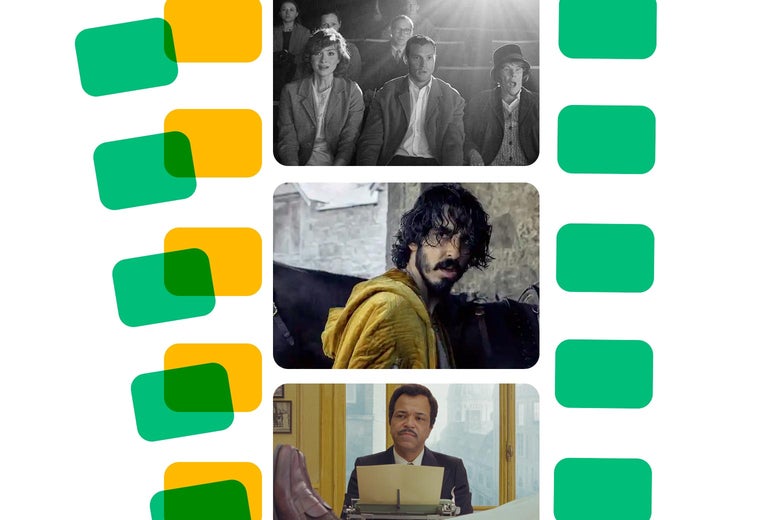 In Slate's Annual Movie Club, film critic Dana Stevens emails other critics — this year, Bilge Ebiri, Alison Willmore, and Odie Henderson — about the year at the movies. Below, entry 8.
Dear D., O., B.,
You all have excellent tastes, in general, if it should be said, but especially when it comes to performances that stand out from the movies that contain them, or despite them. Like Bilge, I was also very impressed with Ben Affleck in The last duel (Odie, I admit I've never been around The tender bar– I've just been burnt by Clooney-as-dull-director too many times before). The movie was a heck of an annoyance all around, but Affleck still managed to stand out for the way he played his medieval earl as a sleazy, mercurial deity, hovering above mortals he was capable of making or breaking. ruin fortune on a whim. I wrote earlier this year about Affleck's bizarre contradictions as a movie star, and how the industry has struggled to put him in roles as compelling as his oversized public image and sometimes disturbing out of control. And then a role like Count Pierre d'Alençon will come, and he'll be electric in it, suggesting that his best acting work is yet to come.
I loved the aforementioned Jeffrey Wright as Roebuck Wright, a reporter who was both James Baldwin and AJ Liebling in The French dispatch, a movie I suspect I'm more sympathetic to than the rest of you. It's Wes Anderson at his most suffocating level, of course, and he sometimes felt like he was trying to lock himself in his own complex world, caulking all the seams so the air couldn't escape. . But that's the thing about Anderson's work – he's always been determined to conjure up nostalgic make-believe shrines for his collections of injured figures. Wright's detective kitchen story was by far the best of the three "features" of The French dispatch, and also the one that made you feel what was going to be lost with the closing of the fantastic version of The New Yorker– a haven for difficult, idiosyncratic, persecuted, and sometimes utterly unnecessary writers – that the film centered on. It's inherently lonely work, writing and Wright plays a character who, due to his sexuality and race, stays aloof even from his colleagues, and yet his beautiful performance is melancholy without ever being sad.
Who else, who else? Odie, I am so glad you mentioned Swan song—Udo Kier is gorgeous and heartbreaking in this movie, and I just tear myself apart remembering all the ways his character is the proud embodiment of a challenge the changed world is no longer inclined to take. I prefered Memory to his second part, but I'm still madly in love with the character of Richard Ayoade, who was promoted to the role of a wonderfully withered artistic conscience by budding filmmaker Swinton Byrne. Tony Leung's greatness hardly needs to be discussed, but it was funny to see him fly effortlessly Shang-Chi and the legend of the ten rings away from the new superhero he was trying to establish. It's hard to feel anything but dread when Marvel searches for great actors for roles that can lock them into stereotypical tariffs for years. delicious in the otherwise forgettable Black Widow, drily funny and vulnerable and so alive. CODA reaches near-toxic Sundance levels in his framing, arc, and sense of humor, and yet I think back to Troy Kotsur's performance as Father Fisherman and his face as his character puts his fingers to his throat. her hearing daughter feeling the vibrations of her singing. We understand that it's not the sound he tries to connect with, but the passion she feels for what she believes is her calling.
I'm writing about big scenes rather than performances per se, so I'm just going to lean into it with a few more favorites. I loved the vision towards the end of The green knight, when the film suddenly gears up to a future in which Dev Patel's character fails in his quest but nonetheless receives power and wealth, all poisoned by his own personal shortcomings. Belfast is a great movie that gives way to one of the happiest streaks of the year when Jamie Dornan sings "Everlasting Love" at her dad's party, and Caitriona Balfe strikes a pose on the dance floor. There is something very entertaining about Kenneth Branagh making a semi-autobiographical film and throwing out two of the hottest people working today to play his parents, but which acts as an occasional distraction for much of the time. runtime suddenly makes sense in this scene, which looks like a child suddenly able to see his father and mother as vibrant adults. Speaking of Dornan getting into the song, no recap of the year would be complete without a mention of his fabulous seagull-loving musical number in Barb and Star go to Vista Del Mar.
But my one favorite scene of the year has to be from Bergman Island, Mia Hansen-Løve's ode to the strange connection between real life and what artists choose to put on screen. In the film from the film, Mia Wasikowska plays an American who traveled to the island of Fårö for a friend's wedding and for the chance to see the defining love of her life, played by the dream boat. arthouse Anders Danielsen Lie. Throughout the multi-day event, the two characters (who are both in relationships with other people) reunite and go their separate ways, with Lie still the most elusive. On their last night, Wasikowska is drawn to the dance floor by ABBA's "The Winner Takes It All," watching Lie as he leans over the bar and watches her. She surrenders to the music, bouncing to the beat and singing to the chorus – then she turns around, notices that Lie is gone and rushes in panic to find him. It's a scene awash with huge emotions, longing, joy and heartbreak, unlike the strong but passionless relationship of the characters in the framing story, which makes it all the more perfect.
I'm so sorry just looking back at those scenes, so while I'm wallowing in music videos, Dana, I'll let you take us to our next and final round with this question – as the star quality doesn't Certainly not dead, I definitely wondered if movie stardom could finally be, especially looking at something like the insanely gloomy but record-breaking A-lister vehicle. Red Notice. What you say?
Even though it hurts me / Now that's old story
Alison
Read the previous entry.