10 fictional couples who ruined the movie's plot
Everyone loves a love story, who doesn't? Well, we can't say much about actual love stories, some of our favorite movies have had fictional couples who have had questionable romances! Either the actors had no chemistry at all, or the plot of the love story was completely unused, or the love story was not just necessary.
Love stories shouldn't just be an opportunity for actors to undress in movies. Such love stories seem to be forced upon the public. Now, maybe we could highlight some problematic love stories that you might have liked in the movie.
But we explore these fictional couples and love stories taking into account the film's acting, writing, and plot. These 10 fictional couples had to stop and leave our otherwise awesome movies with an amazing, hard-hitting storyline.
Evey and V en V for Vendetta
The graphic novel written by Alan Moore describes a complicated and difficult background story for Evey that prompted her to help V with his motivations. But the film completely ignores her backstory instead moving forward by showing that she helps him out because she is in love with V.
It was completely unnecessary and didn't support the real point of the plot at all. Additionally, the love affair is problematic as Evey is apparently a teenager in the book. However, in the movie, she was aged a bit by the writers so that the love story didn't feel weird.
Lois Lane and Superman in Justice League and Superman vs. Batman
Now don't get me wrong! Amy Adams is a wonderful actor and has performed excellently in several films. But that casting and love story weren't perfect for the movie.
Lois Lane is a brave, fierce, and courageous woman, but in the DCEU her character was never used to the fullest. In fact, with more films, we see it less and less. Combining the underutilization of such an incredible actor with the lifeless chemistry with Henry Cavill's Superman is too tedious to watch.
Josh and Cher in Clueless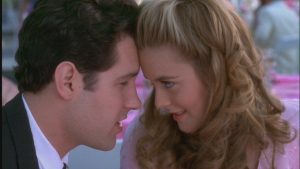 Well, believe it or not, we also don't know that this fictional couple is each other's love interest. Why would writers do this to us? This love story is simply disgusting!
Cher is a 16 year old teenager and Josh, well, he's a 20 year old student. Why would a twenty year old date someone who could be like a younger sister? Yes, we're assuming Cher liked older guys and she said that pretty clearly in the movie, but it just wasn't justified.
Plus, Josh is his stepbrother, his ex-brother, but that still doesn't justify the romance's inappropriateness. Alicia Silverstone and Paul Rudd, two of our favorite actors, were a great couple onscreen, but the story just wasn't right. What makes writers make teenage girls fall in love with adult men? It is totally inappropriate!
Mary Jane and Peter Parker in Spider-Man
Oh no! We're not talking about Andrew Garfield and Emma Stone. They had fiery chemistry in the new version of Spider-Man.
We're talking about Tobey Maguire and Kirsten Dunst. Tobey Maguire as Spider-Man was awesome! Yes, we know everyone secretly admits it! Overall, the story of the film was complete. But the chemistry between Tobey and Kirsten Dunst just wasn't meant to be!
And once you've seen Andrew and Emma having fun in the new Spider-Man, you won't be charmed by Kirsten and Tobey's love story in the movie anymore.
Harley Quinn and the Joker in Suicide Squad
When Harley Quinn was first introduced to the screen in DC films, she became an icon for battered women. She was disrespectful and abused by the Joker.
The relationship was completely toxic, and Harley Quinn's attraction to the Joker was based entirely on her bad boy charisma. It narrowed her down to someone the Joker would use to take out her frustrations. However, Harley Quinn breaks the messy relationship and becomes an unstoppable force of chaos on her own.
But the eventual reduction of their relationship to a stable and healthy one took away Harley Quinn's agency and her character that many women associated with.
Jane Foster and Thor in the movie Thor
Yes, even we didn't think this pair would end up on this list. Gorgeous Chris Hemsworth and talented Natalie Portman seem to make a good pair. But boy, their chemistry in the movie was so far apart that it just doesn't fit the plot of that superhero movie.
Additionally, while the writers wanted their relationship to truly be the focal point of the plot of the film's events, they didn't give them enough chance to grow up and explore the romance between these two characters.
Now that we know that Natalie Portman never wanted to be a part of this movie franchise, her disinterest in the character is justified. Maybe finding an actress who was excited to play Jane Foster could have helped this romance a bit.
Nate and Andy in the devil dresses in Prada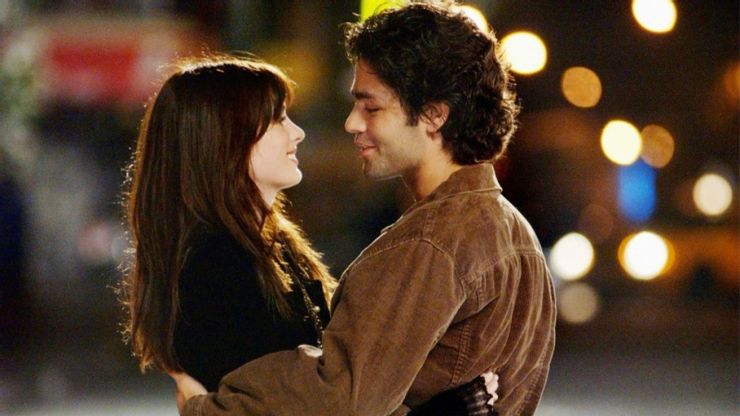 Well, it wouldn't hurt to call Nate a crybaby. No matter how many sacrifices Andy made to make their relationship work, he was never grateful to her. While juggling his job and a boss as imposing as Miranda, Andy made sure the relationship got the time it needed.
But we find Nate complaining about everything she's done. Whether it's leaving his work party to celebrate Nate's birthday or making fun of his clothes, Nate has helped nothing but bring him down. However, as an audience, we're constantly encouraging these two to make it work!
Andy deserved better and she was a much better person than Nate.
Phoebus and Esmeralda in The Hunchback of Notre-Dame
People who haven't read the book would be surprised to learn that in the book Esmeralda was executed for Phoebus, not that dead. Plus, Phoebus never cared about Esmeralda. In fact, he went ahead and married another woman.
However, in the movie, we see that Esmeralda ends up with Phoebus. We are sure this has had a negative impact on young minds. Yes, The Hunchback of Notre Dame is an underrated film that deserves more appreciation and light, but that couple just wasn't right.
Instead, it would have been great to see Esmeralda and Quasimodo get together again. It would have been a beautiful love story.
Juliet and Mark in love, in fact
Truth be told, all the love stories in this girlish movie are problematic. But no more than what we saw between Mark and Juliet. Not only is Mark a creep, but he's hunting down his best friend's wife. Who in their right mind would do that?
Andrew Lincoln who played the character of Mark also thought his character was meant to be a creep. However, this couple and the romance shouldn't have happened.
Johnny and baby in Dirty Dancing
Yes, we know Dirty Dancing is a classic movie. The iconic dance move has been repeated so many times on screens. However, if you start to separate the love story, you will start to find some major flaws.
Of course, everyone wanted to be Jennifer Gray and do the dirty dance with Patrick Swayze, but the love story was just plain wrong. First of all, Johnny was too old for Baby, so if his parents disapproved of his relationship, it's just good parenting.
Second, Jennifer Gray was constantly laughing and character breaking and Patrick Swayze was certainly frustrated with that. It doesn't make this love story any more appealing.
Leave your comments on these fictional couples and their love story. Let us know what you think! Also, comment on any fictional love stories and couples that you think should have been on the list!